News
PATENTUS managed to get an invention patent owned by the Finnish company "Ensto Finland Oy" cancelled by the Chamber for Patent Disputes
Date: 10 March 2016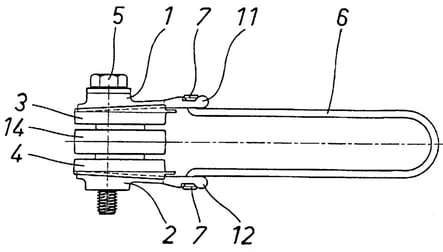 Alexei Mikhailov, the Head of Patent Practice at PATENTUS, represented a Russian manufacturer in the Chamber for Patent Disputes in a dispute with the Finnish company "Ensto Finland Oy".
The company "Ensto Finland Oy" prohibited to manufacture, import into the territory of Russia, use, sell or enter into circulation the products in which its invention patented under No. 2233523 ("Stringing clamp for insulated aerial cable") was used.
On February 26, 2016 the Chamber for Patent Disputes at Rospatent satisfied the claims regarding an opposition against patent for invention No. 2233523 resulting in its recognition as partially invalid. The opposition was motivated by the presence of prior analogous inventions.
This decision may affect the interests of the following four Russian companies: "INTERELEKTROKOMPLEKT" (Case No. A40-138785/2013), "Tekhenergoholding" (Case No. A41-13307/2013), "Electrica Plus" (Case No. A41-52134/2013) and "TD-VLI-KOMPLEKT" (Case No. A41-13296/2013) which, according to ras.arbitr.ru, were litigants in respect of patent No. 2233523. Now these cases can be reviewed due to the new facts.